The Phillips Family has been involved with raising Simmental and Commercial cattle for over four generations. In 1974, Chan exhibited his Simmental steer at the first North American in Louisville, KY. As youth both Chan and Keith were very active in the American Junior Simmental Association. They soon learned that raising quality cattle was not only becoming a career choice, but also a way of life.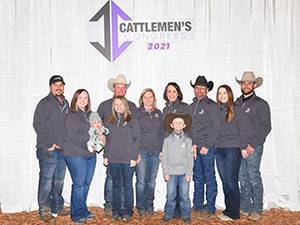 After forming Rocking P Livestock, the Phillips Family has grown in many ways, By purchasing more land, increased cow numbers allowed the Phillips' to acquire more cows and add an ET Program to their existing operation.
Rocking P Livestock is a family operation. Chan and Tonya have two children, Morgan and AK. Morgan and her husband, Sam reside in Missouri and operate Wallace Cattle Company with Sam's parents and in 2020 they welcomed Beau Koller Wallace to the family. AK resides in Texas and is the General Manager of Red River Farms and Chan and Tonya are currently managing Circle M Farms, also in Missouri. Keith and Lindsay also have two children, Josie and Wyatt. You can find Josie in the showbarn, washing heifers or practicing showmanship and Wyatt riding his horse or brushing up on his roping skills. Keith and Lindsay, along with their children oversee the daily operations of Rocking P and reside on the farm in Kentucky. The Phillips family are devoted to continuing on the family tradition of raising Simmental cattle and actively supporting the American Junior Simmental Association. Rocking P Livestock is part of the Paternal Power Bull Sale that takes place in March, annually. We also offer elite show heifer prospects at various consignment sales and always have cattle for sale private treaty.
Our goals are simple, to produce a high quality product, provide a commitment to our customers, and to be known as a program built on integrity.