The Phillips Family has been involved with raising Simmental and Commercial cattle for over four generations. In 1974, Chan exhibited his Simmental steer at the first North American in Louisville, KY. As youth both Chan and Keith were very active in the American Junior Simmental Association. They soon learned that raising quality cattle was not only becoming a career choice, but also a way of life.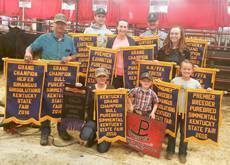 After forming Rocking P Livestock the Phillips Family has grown in many ways. By purchasing more land and increasing cow numbers we were able to add an ET Program and raise embryo calves for other purebred producers while continuing to market quality cattle from our registered herd.
Rocking P Livestock is a family operation. Chan and Tonya have two children. Morgan is 21 years old working towards an Animal Science Degree at Oklahoma State University. AK is 18 years old and is very interested in the daily farming operation, especially running the equipment, but is certainly no stranger to the show-ring. The newest additions to the Phillips family are Josie Brooke, 8 years old, and Marshall Wyatt who was born in February 2011. Parents Keith and Lindsay are certain they will carry on the family tradition of breeding, showing, and marketing quality cattle.
Our goals are simple…. to produce a high quality product, provide a commitment to our customers, and to be known as a program built on integrity.